I received the hood five days after my order and the quality was superb. I got instructions from Car Hoods and fitted the hood myself but when I removed the old hood I found that I needed to replace the rear cable. Car Hoods Ireland sent one on overnight delivery and all went well. I was trying to find a reasonably priced hood for months. Thanks for your help.
Jason Best - Mayo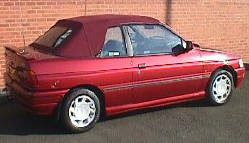 There's no advertising as good as 'word of mouth' when a jobs been done well. The following testimonials from just some of our past customers are accompanied by pictures of their vehicles. Car Hoods would like to take this opportunity to thank them again for their custom and wish them happy dry motoring . Oh, and if you're wondering about any bad reviews....well....when and if we ever get one, we'll post it up here immediately!
Car Hoods Ireland fitted a mohair hood to my 3 series BMW. The back window was frost damaged and the hood was looking a bit tired. I was going to just replace the window but I was quoted €550 from a BMW dealer just for the window alone! Car Hoods Ireland did what they said they would do and it looks great.
Great service.
John Meakin - Dublin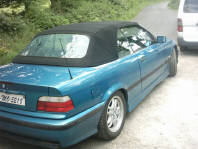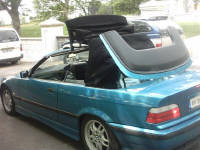 Golf GTI now with a quality hood
Car Hoods Ireland fitted 3 VW Golf hoods for us. When our friend saw the superior quality, he got his hood replaced even though the one on his car was nearly new. The fitters then did our 1974 VW Beetle. They got parts for us that we couldn't even find in Ireland, and we paid half of what we were quoted by the dealerships. Very helpful, nice people to deal with. We would have no hesitation to recommend them highly to others.
Thanks Lads - Colm, Damien & Dave - Kildare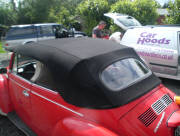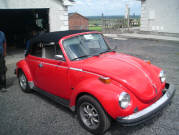 Damiens 1974 Beetle, and just look at the fit of that hood, you'd swear it grew there!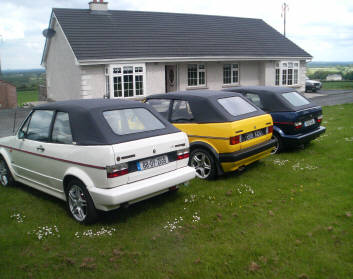 Kildare - Peugeot 306
Great Job and a really good fit, the car looks brand new! I will pass on your contact details to two friends of mine who need hoods replacing.
Scott T



Ennis - E30 BMW
I was quoted €3200 from BMW. You did the job for less than half that amount.! The car sold a week later, it looked so good I didn't want to let it go! A great service that saved me a lot of money, Thanks.
Aonghus O



Mallow -

Mazda MX5 MkII
Just wanted to drop you a line to thank you for the wonderful job that you did with my Mazda hood.
Not only was your turnaround excellent (ordered and fitted in a week), so was the quality of the workmanship. Please extend my thanks to your colleague too.
Gail S.



It's three in a row for Car Hoods Ireland!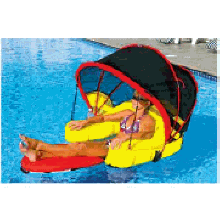 No, we didn't supply this hood!
Dublin - Golf Mk III
A great service and a better quality roof than the one that was on it. You did what you said you'd do when you said you'd do it! Thanks.
Ger & Eileen.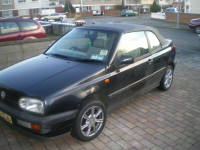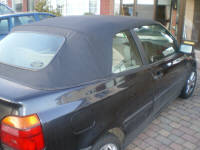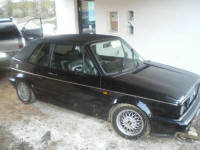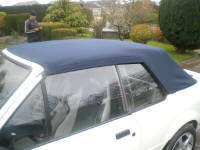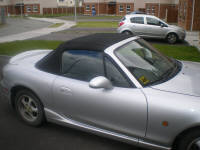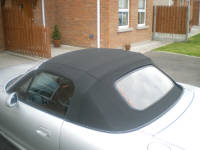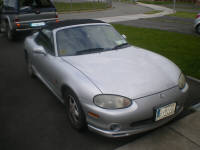 Dungarvan - Mk III Escort & Mk 1 Golf
Thanks for a job well done. very pleased with the workmanship and the price .
Noel C

Thanks Gail....
Look after that car, it's one of the nicest ones we've seen. Hope the leg gets better soon!
Dublin - Golf Mk I
The car was broken into and the hood was damaged on Monday, I called you and ordered it on Tuesday and you fitted it on Friday - 4 days turnaround!. You guys don't mess around and the car looks great!
Kate McG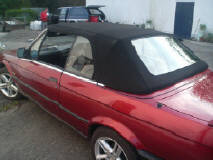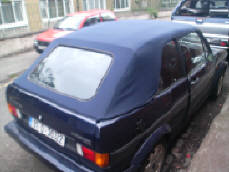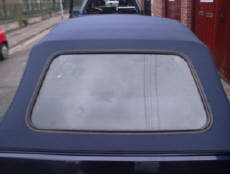 Duleek, Co Meath - Peugeot 205
My 205 looks great, thanks.
Richard D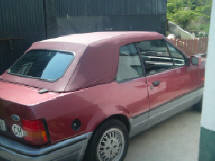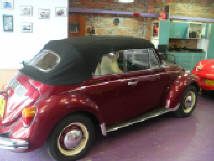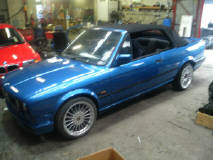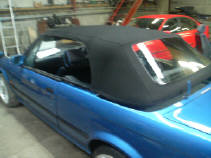 Dublin & Ballina Co Mayo - Escort Mk IV
Just a message to thank you for the job that you did on my Escort.
Larry
Tipperary - VW Beetle Karman
It was good to find someone that knew their business and that I could trust to do the job as it should be done - Thanks Des O'


Newgrange Co Meath - BMW E30
Thanks for doing our E30 and our 'auld'; Morris Minor. !
Gareth & Jo
Thanks for the work Des, look after that Beetle, its without doubt the nicest and most original one that we've ever done
Dun Loghaire - Golf Mk III
Thanks for doing my hood
Tom Mc
Dundalk - Golf Mk III
You made a great job of my car,
thanks for staying late to finish it.
Hannah F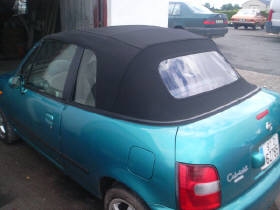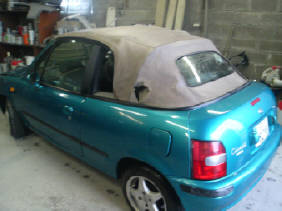 Castletownroche Co Cork - BMW E30
Thanks for fitting the E30 hood my car, It has really made a great job of it
Pat C

Simon, you are a true gentleman and it was a pleasure to meet you. I hope we meet again. D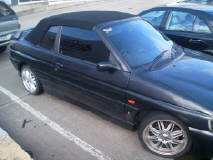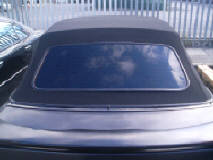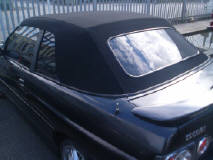 Kilcock, Co Meath - Nissan Micra
I looked everywhere for a hood for this car and you came up trumps. The difference is unbelievable. Delighted with the work, fit and 'craic' .
Simon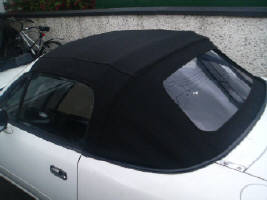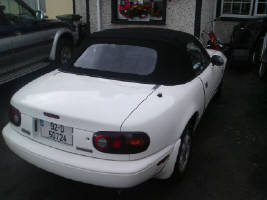 Dublin - Escort Mk5 Cabriolet
Thanks for the great job done replacing the hood on my 96 Escort
and for your trust in my payment methods.....Top man!
Pat Casey

Galway
BMW E30
Genesis XX

Carlow - Mazda MX5 Mk1
You said you'd get it done quickly, and you were true to your word!!
Great job, great fit and very nice people to deal with. Thanks John & Caroline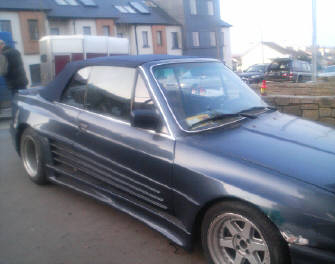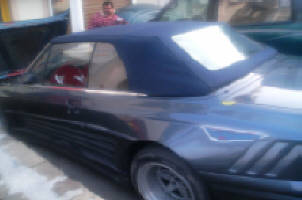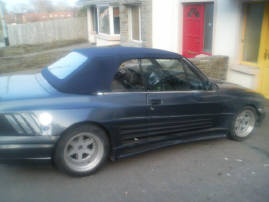 You did a great job on my car.
The insurance was arranged quickly
and you did everything to perfection - Thanks Roman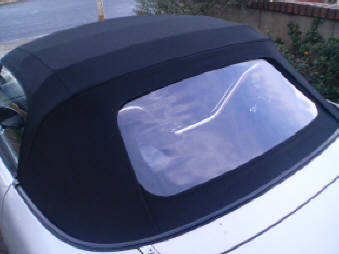 We fitted four hoods for a group of VW enthusiasts....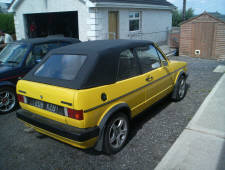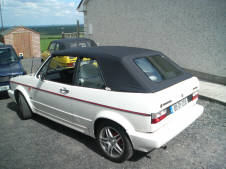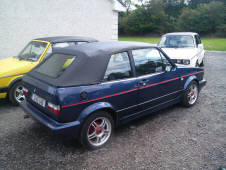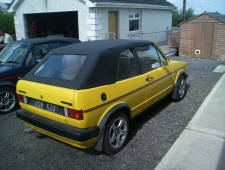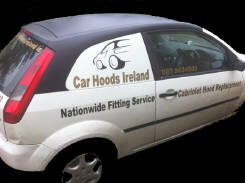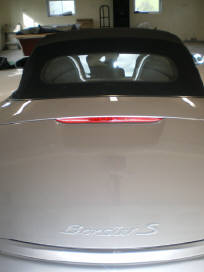 VW Mk1 Golf They totally transformed this wee car which belonged to my late wife....great job. I wasn't charged for any of the extra work that Danny did on this car, he said "he just wanted to leave it right". - Great Job - Liam O'Sullivan, Dundalk
Porsche Boxster
Left my car in @ 10am, picked it up at 6pm. Perfect job, great service. I was quoted €3250 elsewhere, it cost me less than half with Car Hoods Ireland, and it doesn't look like the quality suffered because of the cheaper price.
Highly Recommended!
Furgus, Galway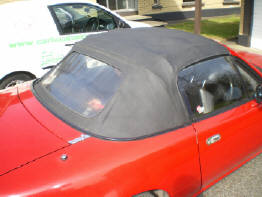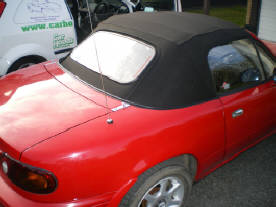 It's refreshing to deal with somebody who knows what they're talking about and delivers on their promises. I paid for a part that the dealer said would take a week or more to get and it was delivered by you the following morning at nearly a third of the price. Thanx for your time and help
Micheal McNicholas - Galway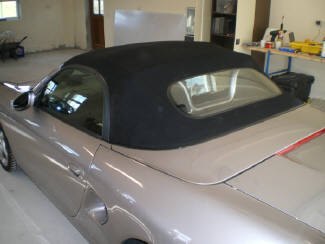 This was a rare Alfa Romeo T Spark Lusso 'special edition', with a beautiful signiature
cream leather interior, note the pearlescent paint....nice to see this car in such superb condition.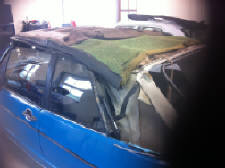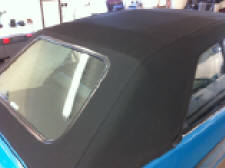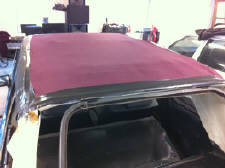 Mazda MX5 - Dublin. Great job done well, ontime, no hasstle, Recommended - Thanks - Connor O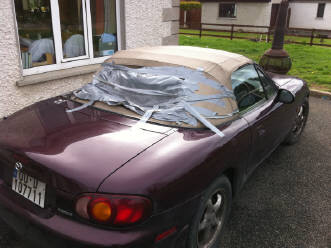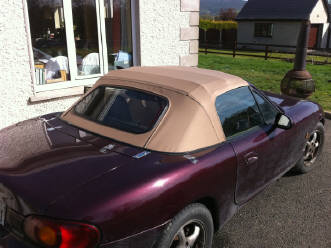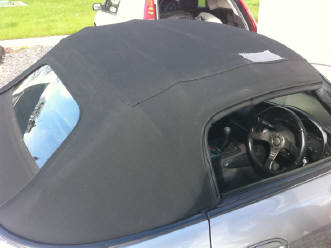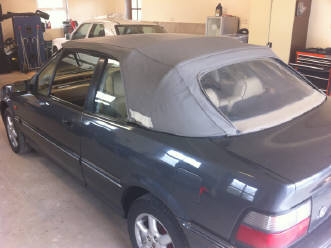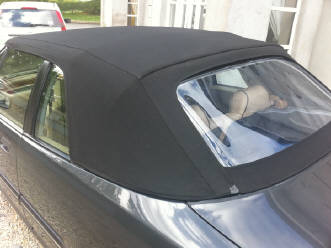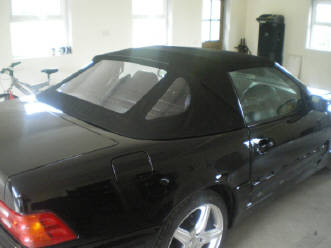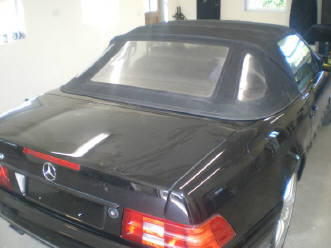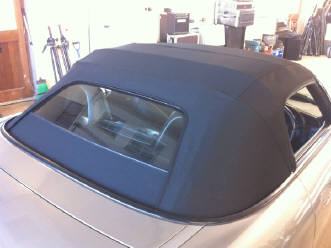 Before & After pics of just some of the many hoods that we have fitted.
Mercedes SLK Before After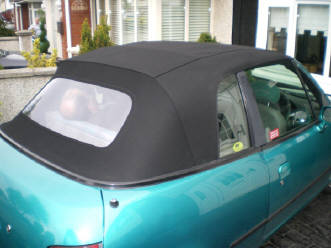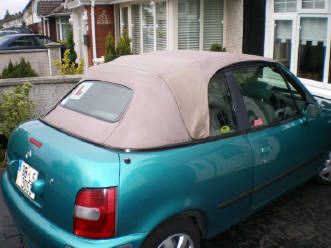 Mazda MX5 MkII Before After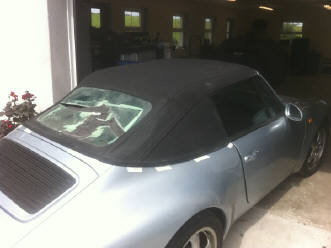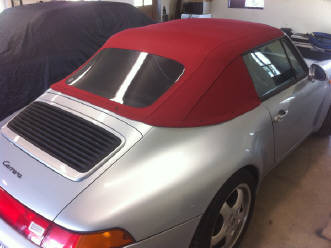 Nissan Micra K11 Before After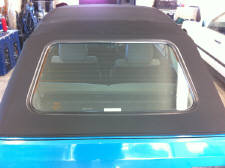 Mazda MX5
My hood was leaking badly and the interior was soaked. Car Hoods sorted it out for me in just a few hours. We stayed overnight in Ballina while it was being done. Lovely town and very nice people to deal with who know their job....Recommended!
Padraic Hogan - Letterkenny
2014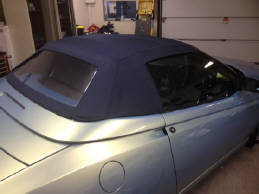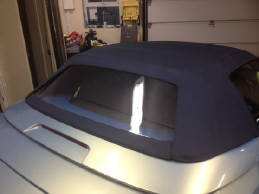 Alfa Romeo Spyder
Delighted with the quality and fit of the hood, it has really made a difference to this car. Efficient and professional service.
Vin - Co Mayo
2014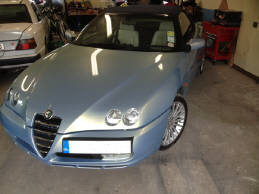 We have fitted hoods from all over Ireland - Here are just a few that we have done.